BOL Foods – Used Spare Capacity Out of Home Advertising Deals To Create A Plant Based Giant
Bol Foods are on a mission to make it easy for everyone to enjoy eating more plants.
Advertising aims:
The aim of the their advertising campaign was to increase brand awareness and support national listings in Tesco stores.
Challenge:
The challenge was doing this on a limited advertising budget.
Solution:
In order to succeed we created a bespoke advertising partnership which helped BOL secure a National Marketing campaign for a fraction of the normal cost.
The resulting Out of Home campaign focussed on the London Underground but also delivered show stopping coverage across iconic digital screens at Premium London destinations including Westfield shopping Centres, Leicester Square and major UK Cities including Liverpool, Manchester and Birmingham.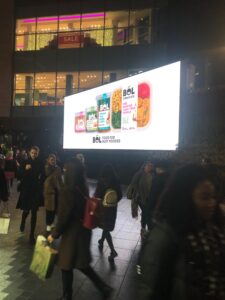 By capitalising on low demand advertising periods we transformed a limited media investment into the plant based category's largest Outdoor poster campaign ……..At one point, every tenth poster on the TUBE was a BOL poster….. giving BOL unfair share of voice, massive reach and unrivalled frequency.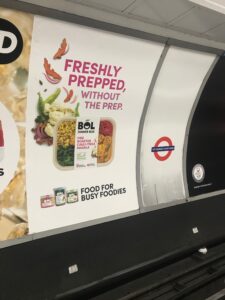 Results:
The BOL campaign ran for 4 weeks and achieved over £500,000 of ratecard advertising value for a tenth of the cost.
The activity sparked immediate brand awareness uplift, strong feedback from suppliers, investors and employees.
The campaign reached over half of London, 4 million adults, 40 times each and generated thousands of Social Media shares to put the brand firmly on the radar of every major supermarket buyer and industry influencer……. and all on a fraction of big brand advertising budgets.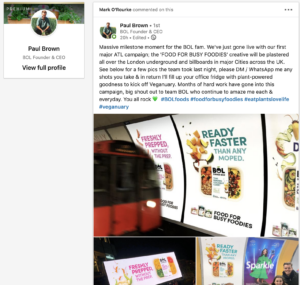 Contact us to learn more of how alternative advertising deals can help your business.