Task Rabbit – Built A Brand Leader With Out of Home Posters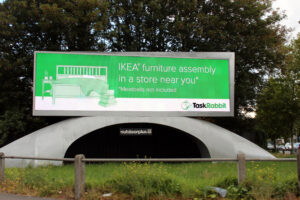 The brief
Fresh from raising $30 million dollars, this U.S based client saw the U.K as a perfect launchpad for European expansion. The Transatlantic phone call was short and simple, make us famous, hit the agreed KPIs and make sure we don't get fired for using a new channel!
Challenge
The client had previously avoided offline advertising due to prohibitive entry costs, but with no brand awareness in the UK combined with a wider lack of understanding around the gig economy they were seeing little traction from search and needed something to boost their digital efforts.
Approach
Our approach established a win-win for client and media owner, which was supported by running a series of Facebook tests to prove the potential of the London audience, then with a set of re-assuring performance metrics we then planned the perfect offline campaign.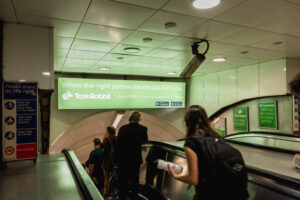 Solution
We overcame budget restrictions by structuring a part-payment, part-performance agreement  and delivered breakthrough coverage across London using dwell time posters to convey the core brand proposition, supported with high cover/ frequency posters to drive installs.
By capitalising on low rates across unsold advertising opportunities we were able to launch with a huge campaign which saw Task Rabbit dominate Oxford Circus and appear at over 200 London Underground stations.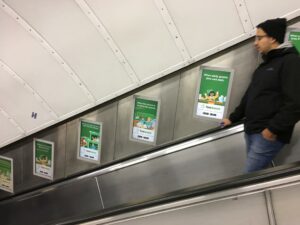 Results
The 4 week test delivered an immediate 100% spike in installs, a 50% increase in job postings and a 10% increase in conversion rates. The test led to a long term relationship and helped establish London as their top performing global marketplace.
"This new approach to mass media immediately doubled our user base and had a transformational effects across all our other acquisition channels"
Task Rabbit have used Rock Soup Media to execute regular Out of Home advertising campaigns over the last 5 years and have accessed over £1 million's worth of media coverage for a fraction of the normal cost on their path to driving consistent Brand search growth.