Vitality Health – Used De-Risked advertising partnerships to launch and grow a brand Leader

The Brief
Vitality Health insurance wanted to launch a new 'stay healthy' proposition into a crowded marketplace.
The Challenge
In 2012 Vitality Health operated as Prudential Health – a tired and relatively unloved brand facing massive competition from much larger brands….. Norwich Union, Axa and Bupa.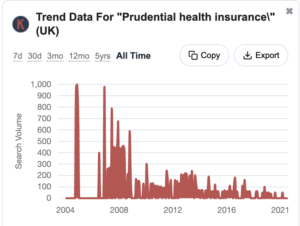 They wanted to relaunch the brand and their key aim was to increase low cost brand search.
The challenge they faced was in having an advertising budget a fifth the size of their well established rivals.
The Approach
By sharing key commercial targets and historical data with Out of Home and Press media owners we were able to build advertising partnerships aligning everyone's interests.
These partnerships helped Vitality to hit brand awareness and sales targets at every stage, enabling them to drive early momentum and double down on brand advertising.
The solution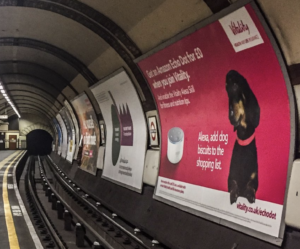 Vitality transformed an advertising budget a fifth of the size of competitors into a launch campaign worth far in excess of anything their competitors were spending.
We achieved this by targeting undersold advertising periods and utilising undersold advertising formats.
This gave them massive unfair share of voice across the London marketplace and ensured they hit all of their brand and performance targets.
Results
Google brand search increased immediately and rose from under 1000 to over 40,000 brand searches per month within 12 months.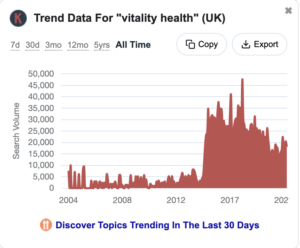 Instead of paying £30 per click for generic terms such as Health insurance Vitality were able to generate clicks at less than £1.
Vitality are now the most famous brand in the health insurance sector.
To find out how this strategy could help grow your business contact us for an initial chat.